Park Map & Rules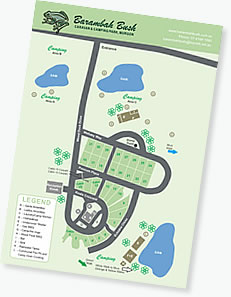 Barambah Bush Caravan & Camping Park
332 BORCHERTS HILL ROAD, MURGON QLD 4605
PHONE: 07 4168 1085
EMAIL: [email protected]
ABN: 55 960 648 743
---
Thank you for choosing to stay at Barambah Bush Caravan and Camping Park.

As we rely on the Heavens above for our water, we appreciate your help in conserving this precious commodity.
The Water to Sites and Amenities is Filtered, treated and chlorinated potable water and the taps are painted blue. We advise you boil the water before drinking. Do not drink from the taps painted red as this is dam irrigation water only. Bottled water is available for sale from Reception if you prefer. Please do not camp under large trees.
OFFICE HOURS: 8AM to 5PM Monday to Friday and 9AM to 5PM Saturday and Sunday.
FEES & CHECK IN/OUT TIMES: All fees are payable on arrival, or are to be a minimum of 1 week in advance at all times. Cabin Accommodation and Sites must be checked-out by 10.00am. Late Checkouts may be arranged with prior approval. Cabins must be left in a clean & tidy condition, or a cleaning fee will apply.
SMOKING: Smoking is not permitted in Cabins, The Amenities, or Camp Kitchen at any time.
CAMPFIRES: Campfires are only permitted in the designated campfire pits provided throughout the Park or your own approved Fire Implements. Firewood is available for sale for $15.00 per barrow load. No trees are to be felled, only gather timber that is on the ground. Firewood is not to be taken from other areas. Camp Ovens are welcome and can be used at the communal Fire Pit Area or any designated Campfire area throughout the Park. Please ensure children are supervised at all times around camp fires. Firewood is provided at the Communal Fire Pit or if you would like to have your own campfire in the designated fire pit areas, firewood is available for $15.00 per Barrow or you may prefer to collect your own firewood. Only wood on the ground is to be collected.
VISITORS/GUESTS/CONTRACTORS: "ALL" Visitors, Guests, and Contractors are to report to Reception before entering this property.
MOTOR VEHICLES: Only one vehicle is allowed per site unless Management has given prior approval.
DISPOSAL OF RUBBISH: Please dispose of General Rubbish in the Wheelie Bins provided throughout the Park. All Glass is to be placed in the Metal Bins provided next to the Wheelie Bins. Disposable nappies must be wrapped & bagged prior to being put in bins.
DUMP POINT: The Dump Point must be used for all Night Buckets & Toilet Cassettes. No effluent is to be placed down Amenities Toilets whatsoever, as we use septic tanks, and any other matter will affect the system.
AMENITIES: Children under the age of 12 must be accompanied to the Amenities by an Adult at all times.
GAS BBQ's & CAMP KITCHEN: Free Gas BBQ's, Wood fire BBQ's and a Camp Kitchen are provided for our Guests. We also provide washing up facilities, including washing up liquid in BBQ Areas. Please ensure they are left in a tidy state, for others to use.
ACCOMODATION/SITES: If Accommodation or Sites are left in an unacceptable condition, a Cleaning Charge at Managements discretion will be applied.
NOISE: All forms of noise are to cease by 10PM. Failure to observe this can lead to immediate eviction from the park, without refund.
DOGS/PETS: All Pets must be on a leash at all times, and any droppings are to be picked up immediately. Owners will be given a separate guide on arrival. Pets are not allowed in Park Accommodation (Cabins or Units), BBQ or Amenities Areas under any circumstances.
SITES & BOUNDARIES: Your Powered Caravan Site boundary is marked with a timber sign showing an arrow pointing to your numbered site. This differs for Camping Sites, both Powered and Unpowered, and depending on space availability during peak periods, you may be able to spread out a little and enjoy the open spaces overlooking the Bush and Dams.
For all our Guests Comfort, please keep within the Boundaries of your Site. No tarps or ground covers are to be placed on any grassed area, however shade cloth is permitted. If you are camping, please do not camp directly under large trees. We have done everything possible to ensure your safety, however large trees can drop limbs at any time.
GENERATORS: Generators may be used in particular areas on Unpowered Sites. Hours of Use are between 9am and 7pm daily to ensure the comfort of all Guests are considered.
ZERO TOLERANCE: Failure to follow the Managers instructions, Bad Behaviour, Swearing, Fighting, Excessive Consumption of Alcohol, use of Illegal Substances, Breaking of Park Rules, SPEEDING, or Damage to Park or Others property is not tolerated. Any form of these will lead to Immediate Eviction without refund
VEHICLE/CARAVAN REPAIRS/SERVICING: No Repair or Servicing is to be undertaken without prior approval from Park Management.
LAUNDRY: We have 2 Coin operated washing machines and 1 coin operated dryer that is situated in the Camp Kitchen area in the Amenities Block. The Cost is $4.00 per cycle, and Change can be obtained from Reception. The machines take $1.00 or $2.00 coins. Laundry Powder can be purchased from Reception, and Loan Irons are also available.
CLOTHES LINES: Clothes Lines are available outside the Amenities Block. Nothing is to be tied to Power heads or taps under any circumstances.
BIRD FEEDING: Daily in front of Reception approximately 4 to 4.15pm. You may see Doves, Rainbow Lorikeets, King Parrots, Rosellas, Kookaburras and many more Australian Species. Koalas have also been spotted around the Park at certain times during the Year.
WALKING TRACKS: Maps for our walking tracks are available from Reception. Children must be accompanied by an Adult at all times whilst on the walking tracks, as there are natural washouts, unfenced Dams and natural water holes within the Property. Please be aware that you are fully responsible for your own and your Family and Friends safety whilst on this Property.
CLOSEST SHOPS: Murgon is only 6klms from the Park and offers a good great range of shopping, everything you need from Camping Equipment, Hardware, Tyre & Auto, Fuel, Take away food and Restaurants including 2 Hotels, Golf Club, Bowls Club and an RSL Club that runs a Courtesy Bus Fridays and Saturdays.
DISTRICT ATTRACTIONS:
The Tourist Information Centre is in the Parkland on the main street in Murgon. Information about local attractions, activities and local art and craft is available from the Centre.
WINERIES: We have Five Wineries within 6km of the Park along the Barambah Wine Trail where you can taste the beautiful wines of the South Burnett and why not enjoy a leisurely lunch while you are there.
Check out the Dairy Museum and see how things used to be in days gone by.
Visit Boat Mountain for exceptional views over the surrounding district and for the adventurous, you may enjoy a climb to the lookout at Environment Park.
Visit Bjelke Petersen Dam and have a fish, picnic or BBQ, and a boat ramp is also available.
Visit Cherbourg Ration Shed Museum where local Indigenous History is displayed.
Go Fossicking for agate in the Cloyna-Windera Area.
Visit the Timber Museum, Dimities Cottage and Gardens, Art Gallery, Dairy and Heritage Museum or the antique and 2nd hand stores.
We hope you enjoy your stay with us, and ask that you please consider your fellow campers and our environment at all times.
PARK RULES: The above information and rules have been put in place, to ensure your stay with us is a safe and enjoyable one. Should anyone have any queries about the above, please feel free to see us while we are around the park, or at Reception. If there is anything further we can do to improve your stay with us, please let us know and we will do everything possible to ensure a great stay for everyone.
Your Hosts,
Rick & Barb Parke
Owner/Operators